Thread Starter
Joined

Mar 15, 2021
Messages

228
More
Preamp, Processor or Receiver

miniDSP 4x10hd
Main Amp

Emotiva XPR200 midrange amp
Additional Amp

Crest audio 2001A bass amp, Crest audio 8002 sub
Other Amp

Rotel RA930ax twitter amp
Computer Audio

Sony Bravia android TV
DAC

RME FF400
Universal / Blu-ray / CD Player

Marantz original 5E CD
Front Speakers

Andromeda MkII
Subwoofers

18" OEM powered subwoofer, 18" Martycube Dayton A.
Screen

Sony bravia 65XF9005
Streaming Subscriptions

Deezer HiFi
Other Equipment

HP i5 running W10, HLC convolver for Audio Lense filters
Hi all,
My system is tri-amp (3 way) mains and 2 subs. All my 8 channels on my audio interface are used. Most of the time it is used as stereo both for music and video. The common case is HLC in ASIO mode and the stream is from outside source, PCM stereo. Still I want to have the ability to stream 5.1 content, especially Netflix from my PC. Apparently according to DD AC-3 guidelines the LFE channel is dropped when down-mixing to stereo. Not all follow the guidelines/protocol, see link. But even if it is included in the mix it is attenuated ~10db (as this channel is originally boosted 10db). Anyway when trying to play 5.1 content with a 2.0 filter some channels are missing like the center channel and probably LFE. For those who stream 5.1 content with a 2.1/2.2 system, how did you configure the speaker setup? How is the format tab supposed to look? did you leave the 10db boost? sub xover is less important as it is more individual to the combination of mains and subs.
Skip to Translations Table of Contents 1 Nearfield Audio Prerequisites for Mix Facilities 2.1 Near Field Atmos® Mix - Mastering and Archive - Original Language Version 2.2 Near Field Atmos® Mix - M...
partnerhelp.netflixstudios.com
So I tried this setup: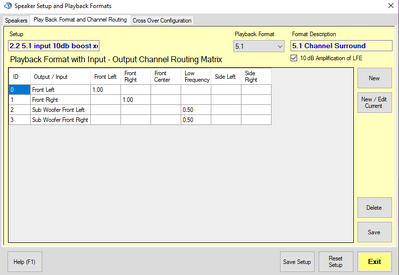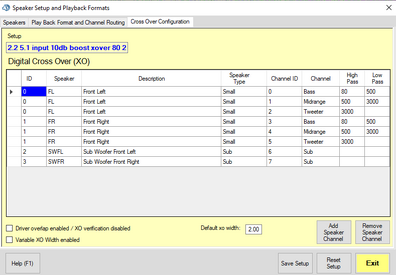 As 5.1 and 2.0. Also tried it with one sub and 2 drivers. Nothing seems to work.
I'm not sure if the issue is the AL filters or working with HLC in standalone mode that doesn't process the 5.1 input correctly. Has anyone succeded playing true 5.1 with a 2.1/2.2 setup? if so how
Edit:
So what I did after consulting Mitch is replace vb-cable with LoopBeAudio
https://www.nerds.de/en/loopbeaudio.html
. LoopBeAudio enables the creation of any input scheme in Windows. I have created a 5.1 setup and 'wired' the center channel to both L/R mains and the LFE to both subs in HLC. See picture below. It works great, Now I have LFE when needed and can hear the center. Didn't bother to add the surrounds as there is no surrounds in my system. So for anyone using HLC standalone and want to stream 5.1 this is a rather simple and elegant solution.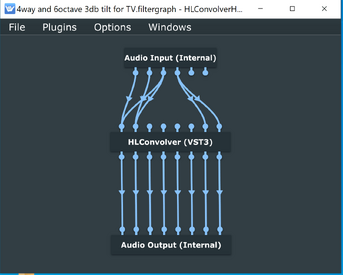 Last edited: