Senior Admin
Staff member
Thread Starter
Joined

Apr 2, 2017
Messages

4,684
Location
More
Preamp, Processor or Receiver

StormAudio ISP Elite 24 MK3 Processor
Main Amp

McIntosh MC1.25KW Monoblock Amps
Additional Amp

Emotiva XPA-Eleven
Computer Audio

Intel NUC w/ Roon ROCK
Universal / Blu-ray / CD Player

Panasonic UB9000 4K UHD Player (for media discs)
Front Speakers

MartinLogan Renaissance ESL 15A
Center Channel Speaker

MartinLogan Focus C-18
Surround Speakers

MartinLogan EFX Surrounds
Surround Back Speakers

MartinLogan ElectroMotion ESL
Front Height Speakers

MartinLogan EM-IC
Rear Height Speakers

MartinLogan EM-IC
Subwoofers

SVS SB16-Ultra x6 + PB16-Ultra x2
Other Speakers or Equipment

VTI Amp Stands for the Monoblocks
Video Display Device

JVC DLA-NX9
Screen

Elite 128" Screen
Remote Control

Universal MX-890
Streaming Equipment

FireCube for movies and Lenova Carbon X1 for Roon
Streaming Subscriptions

Lifetime Roon Subscription
Tidal
qobuz
Netflix
Amazon Prime
Satellite System

Dish Joey 4K
Other Equipment

Zero Surge 8R15W-1 | Salamander Synergy Equipment Stand
I really don't know, but Benchmark makes the claim, and if it's not, it's most certainly "one of" the quietest and cleanest amps in the universe.
Benchmark Media Systems AHB2 Power Amplifier -
https://benchmarkmedia.com/collections/amp/products/benchmark-ahb2-power-amplifier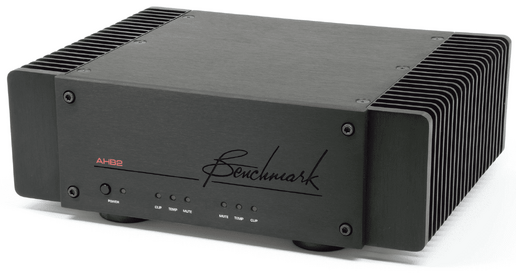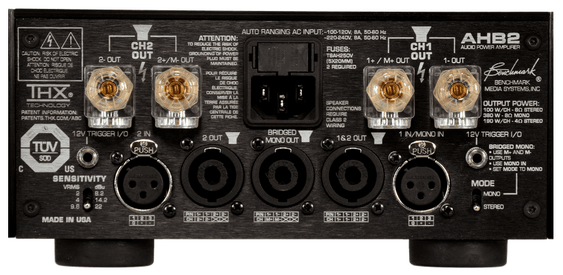 You can see the full specs on their website, but here are some notables:
SNR & Dynamic Range
Rated output relative to output noise, inputs shorted
132 dB A-weighted, Stereo Mode
135 dB A-weighted, Mono Mode
130 dB Unweighted, 20 Hz to 20 kHz, Stereo Mode
133 dB Unweighted, 20 Hz to 20 kHz, Mono Mode
Noise Relative to 2.83 Vrms
Output noise relative to 2.83 Vrms, A-weighted, inputs shorted
-112 dB, Stereo Mode
-109 dB, Mono Mode
THD+N
1 kHz, 80 kHz LPF, at full rated output into any rated load
< -118 dB (< 0.00013%), Stereo Mode
< -118 dB (< 0.00013%), Mono Mode
THD
1 kHz, 20 kHz LPF, at full rated output into any rated load
< -119 dB (< 0.00011%), Stereo Mode
< -120 dB (< 0.00010%), Mono Mode
Those are crazy good numbers... and verified by Amir at AudioScienceReview who has the AHB2 at the top of his list for amps:
https://www.audiosciencereview.com/...-and-measurements-of-benchmark-ahb2-amp.7628/
A black pair landed at my shop today and I happily brought them home with me, since I paid good money for them. These will power my ML 15A's in mono mode. I learned from talking with Rory Rall of Benchmark that they have paired up the AHB2 amps with several MartinLogan speakers over the past few years at various audio shows to show how well they pair with electrostatic speakers.
Lately I've been considering a little higher end gear to make sure I'm not missing anything in my music listening. Yet I've always been a proponent of not being able to identify any audible differences in quality solid state amps, which includes
most
all amps as far as I'm concerned, provided they are not over-driven. I am NOT stating there are no audible differences, and it does NOT mean I am NOT hearing a difference. I'm just not good at identifying the differences like some others that are apparently able to do so. However, what I don't want is anything to possibly hinder me from hearing the best I can hear, or at least that is what I am chasing right now. I believe the AHB2 amps will be a significant part of my music listening system.
While investigating these amps I enjoyed reading Benchmark's VP and chief designer John Siau's application notes... some very interesting articles;
https://benchmarkmedia.com/blogs/application_notes
The first paragraph of his
Listening vs. Measuring
article caught my attention right away.
At Benchmark, listening is the final exam that determines if a design passes from engineering to production. When all of the measurements show that a product is working flawlessly, we spend time listening for issues that may not have shown up on the test station. If we hear something, we go back and figure out how to measure what we heard. We then add this test to our arsenal of measurements.
Even though measurements show no flaws, they still listen, and if they identify something different, they figure out a way to measure what they heard. This is truly amazing to me. Take a look at the products they make, and take a look a the specs, and look at the unbelievably crazy good specs verified by numerous people taking measurements with the best gear available to do so. Then imagine that these guys at Benchmark STILL listen for differences and THEN figure out a way to measure those differences. They firmly believe that if they hear a difference, they should be able to measure it.
I appreciate what Paul Seydor of the abo!ute sound wrote in his review of the AHB2... here are a few clips from his review...
I don't have much to say about the sonic qualities of Benchmark's new AHB2 power amplifier because there isn't that much to say. Used within its limitations and for its intended purposes it is in any practical sense perfect. I know this is not the sort of thing we're supposed to say about products, but it has been evident for a very long time now that solid-state electronics, particularly linestage preamplifiers and power amplifiers, have reached a point where they are effectively a solved problem such that it is exceeding difficult to tell one from another even in the most exacting A/B comparisons. Ferretting out differences typically involves zeroing in on a very specific and limited characteristic or set of characteristics with such concentration as to leave one tired, uncertain, or both: in other words, an activity that is the very antithesis of what is involved in listening seriously, even critically—to say nothing of pleasurably—to music. [I must point out that this view is not shared by the TAS editorial staff. —RH]

That said, even by contemporary standards of the most sophisticated, exotic, and expensive electronics, this new amplifier is something of a technological tour de force.

As a remarkable number of audiophiles still tend to listen with their eyes rather than their ears, there continues to be a prejudice in favor of size, weight, and bulk, especially as regards speaker systems and amplifiers. I have no wish to engage the double-blind test debate here, but I do think there's a lot to be said for not knowing what you're listening to when evaluating components, particularly when it comes to electronics. The truth is that if electronics, particularly solid-state electronics, are correctly designed, they just work: When they don't sound neutral the reason is typically some limitation or flaw in the design, being pushed beyond their rated power, an interaction with untoward speaker loads and/or cabling, or a flavor the designer consciously built into it (e.g., the exceptionally pretty Gundry dip Bob Carver designed into his Sunfire amplifiers).
(
full review
)
(underlined emphasis by me)
This to me is when honesty and reality are harmonized beautifully by a reviewer.
Then we have our good friend Kal Rubinson's review of the AHB2 at Stereophile... which is where I was surprised to learn that the AHB2 was a collaboration between Benchmark and THX... another interesting bit of technology and information. Kal seems to be more like one of us, instead of being like so many of the other reviewers for which I withhold the words that might describe them, partially out of respect for what they do. I admit, there's just not many reviewers I trust or care for... sorry, but I can't apologize for them. Benchmark might thank Kal for tilting my decision to purchase these amps based on his comments as follows....
Benchmark and THX make much of the AHB2's lack of audible noise: something good systems aren't troubled by in any case. That said, it was probably the AHB2's low noise level that revealed to me much more apparent low-level detail in already-familiar recordings. I qualify that statement with apparent because, after hearing the AHB2 uncover previously unheard subtle details, I found I could now hear them when I returned to my other amps. I suspect that, being newly informed of their existence, my ear/brain could more easily extract those details from the output provided all along by my other amplifiers. This made a much greater impression on me than any subjective awareness of a lower noise floor, per se.
(
full reivew
)
Thank Kal for turning me on to O-Zone Percussion Group: La Bamba... that's some good stuff... diggin' the Jazz Variants.
The AHB2 is simply another part of the chain in my chase for the near perfect two-channel system build. I'm not there yet, but I'm close, and I hope the AHB2's will play a big part in not holding anything back from my reaching audio nirvana.
Last edited: