Senior Admin
Staff member
Thread Starter
Joined

Apr 2, 2017
Messages

4,104
Location
My AV System
Preamp, Processor or Receiver

Monolith HTP-1 Processor (Movies and Surround)
Main Amp

Sanders Sound System Magtech (Dual)
Additional Amp

Emotiva XPA-Eleven
Computer Audio

Intel NUC w/ Roon ROCK
DAC

miniDSP SHD (Two-Channel Music Only)
Universal / Blu-ray / CD Player

Panasonic UB9000 4K UHD Player (for movies only)
Front Speakers

MartinLogan Renaissance ESL 15A
Center Channel Speaker

MartinLogan Focus C-18
Surround Speakers

MartinLogan EFX Surrounds
Surround Back Speakers

MartinLogan ElectroMotion ESL
Front Height Speakers

MartinLogan EM-IC
Rear Height Speakers

MartinLogan EM-IC
Subwoofers

SVS SB16-Ultra x4 (music) + PB16-Ultra x2 (movies)
Video Display Device

JVC DLA-NX9
Screen

Elite 128" Screen
Remote Control

Universal MX-890
Streaming Equipment

Roku Ultra
Streaming Subscriptions

Lifetime Roon Subscription
Tidal
qobuz
Netflix
Amazon Prime
Satellite System

Dish Joey 4K
I snagged a super great deal on a JVC NX9 ... couldn't resist. Got it connected yesterday and cranked up the system, had it on Dish Network initially and was blown away by the satellite image. Then switched it over to Netflix and again could not believe what I was seeing. Then I watched Monster Hunter 4K last night and was totally blown away. This PJ is the real deal... the clarity, color, depth of image... gorgeous to say the least. Monster Hunter has some really good HDR scenes to show it off as well. I don't ever remember seeing a picture this good anywhere... not that I've been very many places with a higher-end PJ. It is a huge projector, but was easy to mount with the Chief system.
One of the neat features with this unit is the ability to save 10 different settings (Installation Mode). In my case I have 16:9 and 2.35:1 settings, which include HDR settings for the Roku (Netflix/Amazon/Apple 4K)... then another set with each AR and the UB9000 HDR setting, which is a special setting in the JVC (Pana-PQ). Then there are some aspect ratios in between that I can set memory slots for. Very convenient.
JVC Product Link:
https://www.us.jvc.com/projectors/procision/dla_nx9/
Brochure:
https://www.us.jvc.com/projectors/pdf/dla_nx9.pdf
From JVC:
The DLA-NX9 is the world's first 8K/e-shift home theater projector featuring new 0.69-inch native 4K D-ILA device with a whole new external design. 8K/e-shift technology together with its 100mm diameter all-glass lens achieves 8K-equivalent resolution (8192 x 4230) that rivals reality even on large screens. Unique Multiple Pixel Control technology converts FHD and 4K images to high-definition 8K images. Auto Tone Mapping function which automatically adjust settings based on the mastering information projects HDR10 content at optimum quality. Combining brightness of 2,200 lumen, dynamic contrast ratio of 1,000,000:1, and wide color gamut covering beyond the DCI-P3 range, the projector faithfully reproduces latest content including HDR10 and HLG. Renewed Clear Motion Drive together with Motion Enhance significantly reduces motion blur. Go further, and be the first to experience the high-definition, high-quality images exceeding 4K.
Features
Complies with the latest HDMI/HDCP 2.2 standard to enable full spec 4K signal input with 18Gbps transmission band-width (4K60P 4:4:4, 4K60P 4:2:2/36-bit, 4K24P 4:4:4/36-bit)
Light source: NSH 265 W lamp
Resolution: 8192 x 4320 (with 8K/e-shift)
Input connectors: HDMI x 2 (3D, Deep Color/HDCP 2.2)
Output and control connectors: RS-232C (D-sub 9pin) x 1, LAN (RJ-45) x 1, Trigger x 1 (Mini jack), 3D Sync x 1 (Mini-DIN 3pin)
3D formats: Frame Packing, Side-by-Side (Half), and Top and Bottom
JVCs proprietary 8K/e-shift technology reproduces image quality beyond 4K** (The projector does not support 8K signal input)
New 0.69-inch 4K D-ILA (4096 x 2160) device x 3
18-element, 16-group all-glass 100mm diameter high-quality lens
Multiple Pixel Control image processor accurately reproduces images closer to the original
High brightness of 2,200 lm provides vibrant and dynamic imagery
Native Contrast Ratio of 100,000:1 translates to a spectacular Dynamic Contrast Ratio of 1,000,000:1
Wide Color Gamut above exceeds DCI/P3 spec creating saturated, beautiful images that come to life
Compatible with HDR technology that dramatically improves image quality that rivals real life.
Auto Tone Mapping function automatically adjusts settings for optimum HDR10 image quality
For easy reproduction, the projector switches automatically to HDR picture mode when HDR10 signals are received
Display the MaxCLL and MaxFALL mastering data available for HDR content on some UHD Blu-ray discs
Compatible with Hybrid Log-Gamma that is expected to be used widely in future broadcasting
Installation Mode centrally manage nine settings related to installation to enjoy video best suited for each environment
Nine settings of Installation Mode include Lens Control, Pixel Adjustment, Mask, Anamorphic on or off, Screen Adjust, Installation Style, Keystone, Pincushion, and Aspect; stored installation modes for various environments can be called up.
Renewed Clear Motion Drive supporting 4K60P (4:4:4) signal improves moving images more than ever
Motion Enhance technology reduces residual images and blurring that are often found in fast-moving images by optimally controlling the drive of D-ILA devices
Low Latency Mode suppresses display delay for faster response when receiving signals from PC and game consoles
Color Management System with 6-axis Matrix
Auto-Calibration Function using an optical sensor* is capable of optimizing essential elements in the image, including color balance, gamma characteristics, color space and color tracking
THX 4K Display Certification to ensure the precise reproduction of picture quality in 4K content, just as the original filmmaker envisioned.
ISF C3 (Certified Calibration Controls) mode** to reproduce excellent picture quality optimized for specific environments.
Wireless transmission options for 3D viewing: RF (radio frequency) system transmission with PK-AG3 3D Glasses for 100H continuous operation and PK-EM2 3D Synchro Emitter
*Exclusive JVC software installed in PC and optical sensor are required. Please visit the JVC website for details. **Professional calibration to desired screen is performed by trained dealers
Specifications
Reviews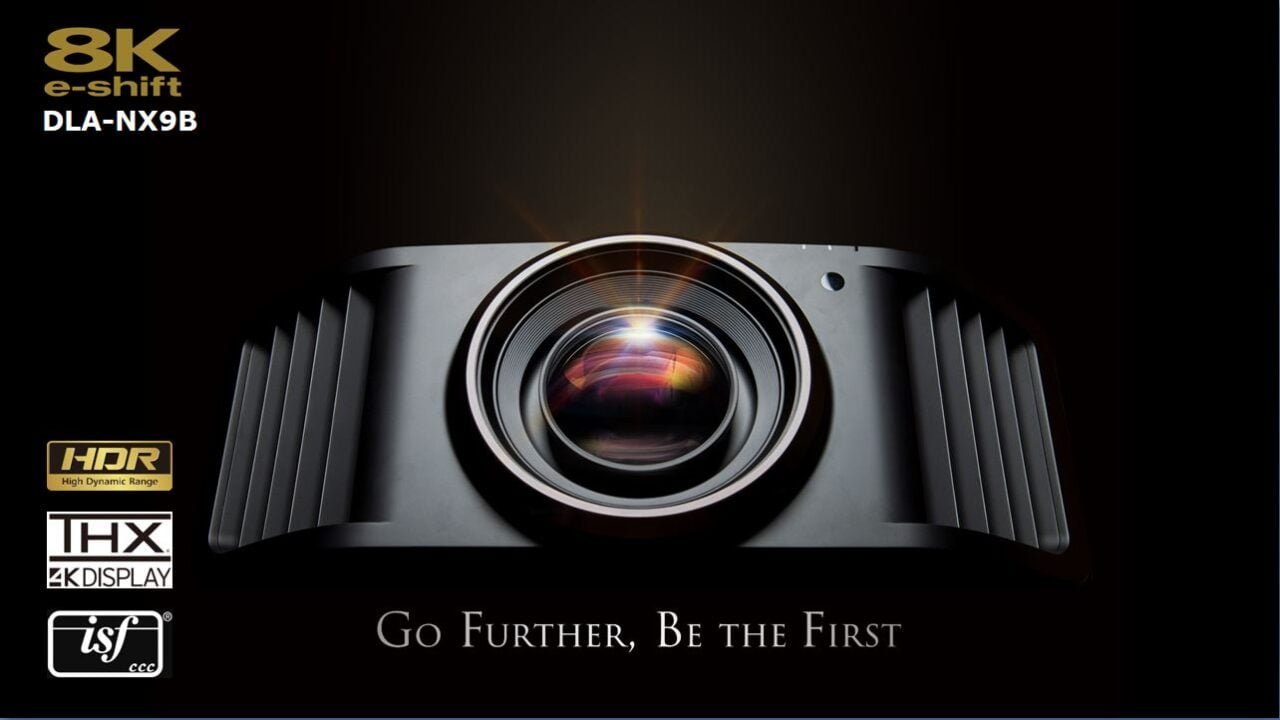 The time crew has arrived and our waiting is finally over. JVC announced the release of its new models N5, N7 and NX9 for this year and dealt us a big surprise, I speak of cource about the native 4k […]
www.projectorjunkies.com