Manufacturer & Model

GoldenEar Technology SuperCinema 3D Array XL
MSRP

$1599.99
Highlights

High-end components including GoldenEar's High-Velocity Folded Ribbon Tweeter, capable of producing a massive "3D" image, audiophile-grade sound with both movies and music, sized to fit larger flat screen televisions, top-notch build quality and ease of integration on a wall or flat surface.
Summary

The 3D Array XL soundbar along with GoldenEar's SuperSub X and SuperSat 3 surround speakers combine to make a killer audiophile surround sound system. Using the company's high-end drivers and a nifty design, the 3D Array XL throws a massive soundstage that's loaded with smoothness and precision. Demo sessions using various combinations of the speaker package were stunning on both music and movie fronts. GoldenEar's high-quality look and feel cap off a perfect discrete sound system.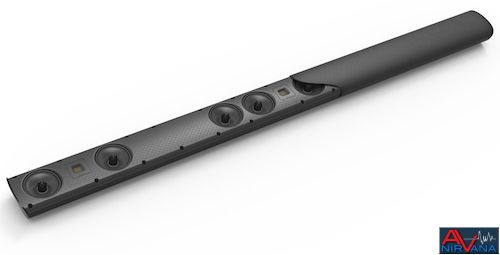 ---

The word soundbar doesn't exactly tickle the inner audiophile. In fact, it can send hardcore enthusiasts into a comatose state of aural disinterest. And while I'd never brand myself as a soundbar naysayer, I'm comfortable admitting that I have fairly soft performance expectations when it comes to the space saving all-in-one speaker solution.

Over the years, I've heard quite a few soundbar products – some have surprised me with good performance, while others simply fell flat – but I've never heard one that had me picking my jaw off the floor and wanting more. And I've most certainly never heard one that possessed the refined character and sonic spunk needed to jettison itself onto my shortlist of all-time favorite audio gear.

Wait.

Rewind for a second.

Did I just type that? Favorite? Soundbar? All-time? Is it possible? Before I answer that question, let me introduce you to GoldenEar Technology's SuperCinema 3D Array XL ($1599), one of the coolest slimline speaker solutions on the market.




Not Your Neighbor's Soundbar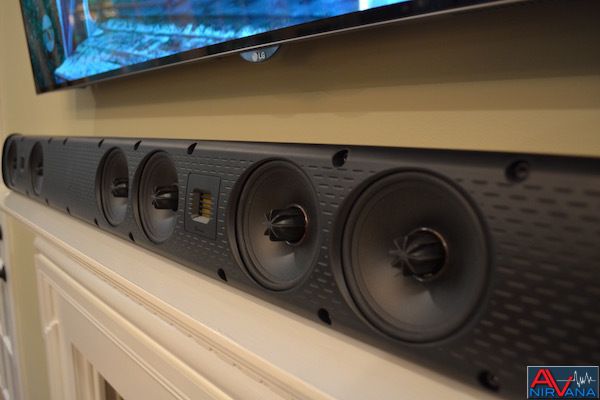 Most soundbars are designed to function as a lifestyle product for the masses, easily integrating between a source and a television in order to provide a little kick to the TV audio experience. That typically means some combination of RCA or HDMI connectivity, internal amplification, automatic audio decoding and push-button processing modes, wireless connectivity, and multi-use conveniences. It just so happens that GoldenEar's 3D Array XL isn't like the average soundbar, particularly when considering the aforementioned technologies. The 3D Array XL, you see, is a passive speaker that requires external amplification. In fact, I'd venture to say it's not a soundbar at all, but rather a discrete loudspeaker solution.

I asked GoldenEar's co-founder, Sandy Gross, if the company had considered pursuing a broad multi-function lifestyle design, and he was quick to explain that the 3D Array XL is a specialty speaker made specifically for high performance.

"Building everything into the speaker would have resulted in many compromises, especially in terms of power amps. With this configuration, a customer has the flexibility to combine the 3D Array XL with a receiver of a quality level of their choice," explained Gross. "We have many customers who, for various reasons, want the speaker's form factor but don't want to compromise on the electronics."

So, opting for a passive design allows the end user to maintain complete control over processor and amplifier selection, but also allowed GoldenEar to dodge dumping resources into high-tech functionalities (such as streaming and video compatibilities) that are prone to rapidly morph and change. That means the company's R&D team was able to assign budget and focus on one lone goal: coaxing audiophile-grade sound out of a challenging cabinet design. That's a sentiment I surely can appreciate, and I suspect that other home theater fanatics and audiophiles will appreciate it too.




Another GoldenEar Beauty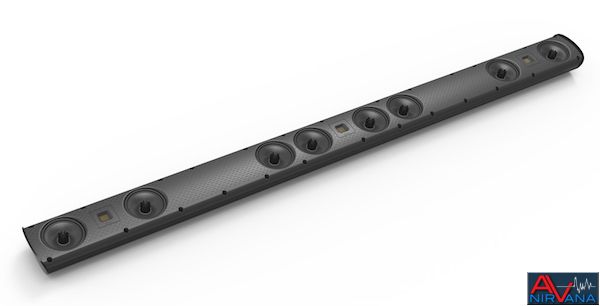 (GoldenEar Technology)

The 3D Array XL looks every bit the part of a GoldenEar speaker, highlighted by a luxurious piano gloss black finish. The company is known for speakers and subs that standout with a confident flair, and while the 3D Array XL carries that confidence, its physical presence is subtle enough that it should blend with nearly any style or decor.

The speaker weighs a healthy 21 pounds and measures 62-1/8" W by 2-7/8" D by 4-3/4" H. Not to mince words, but the 3D Array XL's 5-foot plus width is flat-out long. That length, however, is beneficial because it provides real estate to separate the speaker's three channels, while enabling it to blend with larger television display sizes (it's recommended for TVs measuring 65" and larger). The speaker's near three-inch thinness is also welcomed, as it maintains a low profile when hugging a wall or situated on a flat surface.

Handling the 3D Array XL is an instant introduction to the speaker's overall luxury prowess; exterior materials feel robust, largely due to its gorgeous aerospace-grade extruded aluminum body and marble-powder infused baffle and end-caps. If that sounds high-end, let me assure you it both looks and feels high-end. Not to harp on the speaker's heft, but its weight (which feels heavier than spec) further conveys a sense of quality craftsmanship.

The backside of the 3D Array XL features keyhole slots for wall mounting, attachment points for two threaded adjustable feet (included), and a cluster of six gold plated speaker binding posts. The binding posts are labeled "left," "center," and "right," and accept both bare wire and banana plug connections. Overall connection convenience was acceptable, if not a tad tight, but nothing a little patience couldn't manage.

The speaker's front side is protected by a magnetically attached grill.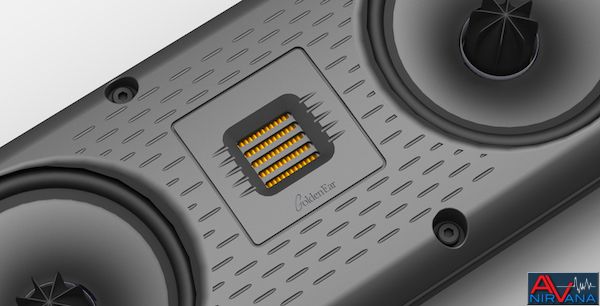 (GoldenEar Technology)



Speaking of the front side, it's loaded with an impressive array of eight drivers and three tweeters. The 3D Array XL (and its smaller sibling, the 3D Array X) tap the power GoldenEar's wide dispersion High-Velocity Folded Ribbon Tweeter (HVFR) and 4.5-inch High-Definition Bass/Midrange Driver to create three distinct channels of performance. On the XL model, the left and right channels incorporate single drivers flanking either side of an HVFR in an M-T-M arrangement, while the center channel has two drivers positioned on either side of a single HVFR (M-M-T-M-M). The system, as a whole, is designed to act as a 3D audio engine, counteracting issues that affect the sonic performance characteristics found on typical soundbars, with the intention of creating a true three-dimensional sound with noticeable width and depth.




The Rest of the Gang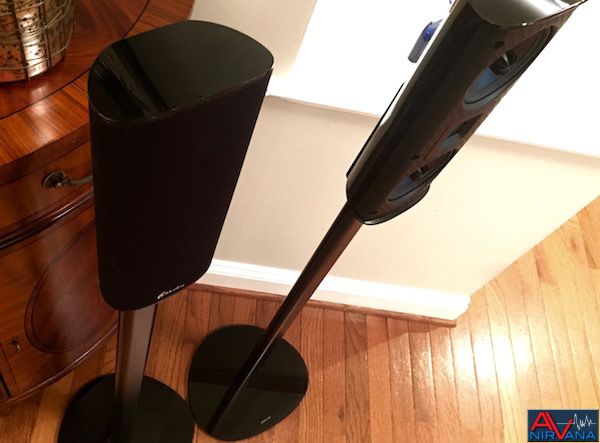 While the focus of this review is the 3D Array XL, GoldenEar also shipped a pair of its SuperSat 3 speakers for surround duty ($249/each), two SuperStand 3 speaker stands ($149/pair), and a single SuperSub X ($1,249).

The SuperSat 3 is a room friendly speaker that physically compliments the 3D Array XL, in addition to utilizing the same 4.5-inch driver and HVFR tweeter (distributed in a vertical M-T-M arrangement). The speaker can be wall mounted using rear keyhole slots, or easily mounted on GoldenEar's SuperStand 3. The stands (33.5" tall) feature a black tempered glass pedestal and black metal column. The column is hollow and has rear access holes for simple wire management. I found stand assembly to be intuitive and overall build quality to be top-notch.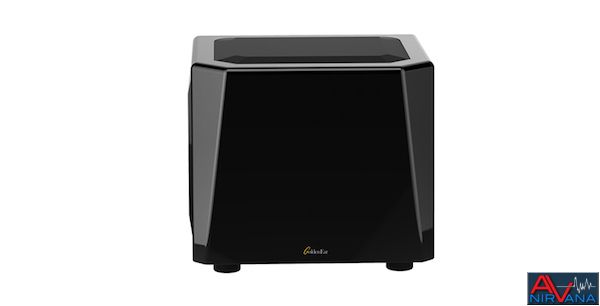 (GoldenEar Technology)



The SuperSub X is GoldenEar's latest subwoofer offering, and its inclusion makes this particular review rather unique (as previous 3D Array XL reviews incorporated GoldenEar's ForceField subwoofer model). I recently published a full independent review of the SuperSub X, which can be found by clicking here. If you're not familiar with its performance capabilities, then I highly suggest reading that review – it's a special speaker.


All-in, the entire review system has a retail value of $3,495, which is rather reasonable considering its quality and performance capabilities.




Set Up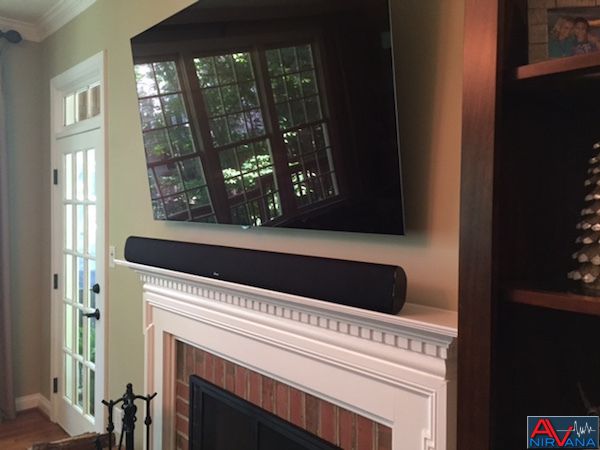 For purposes of this evaluation, I opted to deploy the 3D Array XL and its companions in a real-world setting (family room) devoid of fancy acoustic treatments. It's actually quite a challenging space, measuring 14-feet by 18-feet (10-feet tall) with two large openings to other rooms, a wall of windows, and a centrally positioned fireplace surrounded by an arrangement of couches and chairs. If you're thinking "open floor plan," then you're close. It's certainly not an enclosed space.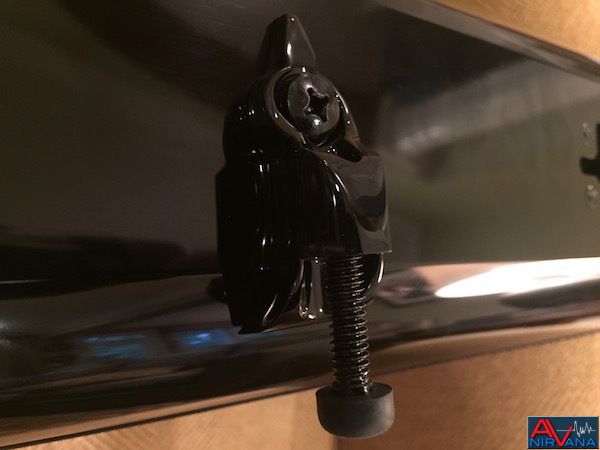 The 3D Array XL was outfitted with its adjustable feet and placed on the fireplace's mantle (below a 65-inch LG OLED B6 television). Note, the feet were easy to adjust and the speaker's weight balance doesn't allow for it to tip forward, even when placed along the edge of a surface. The stand mounted SuperSat 3s were placed to the right and left of the room's primary seating position, and the SuperSub X found a home in the front right corner of the room.

The system was powered by a Pioneer Elite VSX-21 THX receiver, with media fed by an OPPO UDP-203 universal disc player.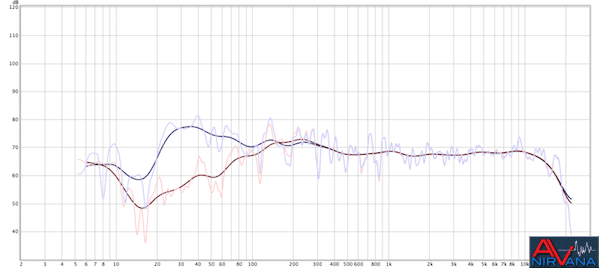 An averaged frequency response illustrates the SuperSub X and 3D Array 150Hz Crossover.



I experimented with various low frequency crossover points and (at the suggestion of GoldenEar) settled on 150Hz. Yes, that's rather high as compared to convention, but the 3D Array XL's low-end performance begins to roll off in this range. After extensive listening (and varying the crossover setting), I found the marriage of the 3D Array XL and the SuperSub X (even at this higher crossover region) to be seamless and smooth.




Performance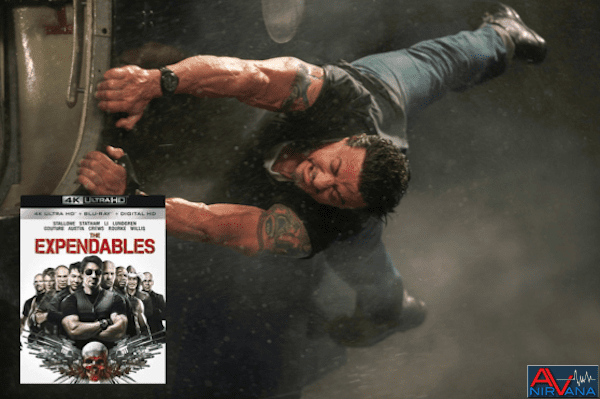 (Lionsgate Films)

I'm feeling a tad hungry at the moment, so let's talk about the system's performance in terms of food. If you think of the 3D Array XL, SuperSat 3s, and SuperSub X as components of a delicious milkshake, then consider the 3D Array and SuperSub to be the essential bulk of the dessert (the frosty soda fountain glass, a lusciously thick vanilla ice cream mixture, and a generous helping whipped cream), while the SuperSat 3s are a garnish (rich chocolate drizzle or a tempting maraschino cherry). The point being, you can enjoy the bulk of the shake in its own right, but the addition of a tasty garnish adds a little extra pop of flavor and delight.

Hungry?

I sure am, so let's get a spoon and taste what GoldenEar has to serve up.

As I've hinted, I listened to a mixture of movie and music demo material while switching between one of two configurations: a complete system consisting of the SuperSub X, 3D Array, and SuperSat surround speakers, and just the SuperSub X and 3D Array.

And, wow…what a spectacular feast for the ears!

The 3D Array XL delivered on its name, producing a massively expansive soundstage that extended across the entire width of the 18-foot wall it occupied; sound stretched from floor to ceiling and to all corners. The sound also appeared to curve along the room's edges, creating the illusion of phantom surround channels. It was not only surprising to hear, but incredibly enjoyable because of its overall quality and polish. The addition of the SuperSat 3s certainly invigorated the system's surround presentation (especially when considering pinpoint directionality of effects such as a gunshot or a bullet whizzing from front to back), but the 3D Array XL was extremely pleasing all on its own.

Here are a few outtakes from listening session notes:

The Expendables (4K UHD Blu-ray, Dolby TrueHD)
The 3D Array XL and SuperSub X joined forces to throw a shockingly wide soundstage. Dialog was throaty and nicely centered; very intelligible. The rumbles and crackles of engines and guns were deep and thick, largely aided by the output capabilities of the SuperSub.

Most noteworthy was the crispness of trebly sounds. Higher frequencies were never harsh or unpleasant, but certainly sharp and controlled. When using just the 3D Array XL and SuperSub X, Chapter 14's riotous gunfire placed sounds of bullets and ricochets across a sonic canvas that stretched to the room's boundaries on either side of the Array. The scene's dramatic music also danced well beyond the edges of the speaker. Directionality was spot-on and the "3D" sound effect was complete with an airy presentation that had sounds stretching into midair.

Adding the SuperSats helped to further wrap sound around the middle listening position, for a truly enveloping presentation that appeared to be a seamless dome of sound.

3:10 to Yuma (Blu-ray, Dolby Digital 5.1)
3:10 to Yuma and the 3D Array/SuperSub combo jettisoned my family room straight into the dusty wild west. Tin cans and pans pinged with the sound of bullets, the thud of footsteps on rickety wood floors appeared to come from below, the hoots and hollers from Wade's evil posse emanated from all around, the film's western sound track seemed to hang in the air, and ethereal gunshot echoes effortlessly bloomed while maintaining detail and character.

Beautiful!

Notably, dialog during the chaos of the film's climax remained completely intelligible. And, of course, the arrival of the prison train delivered a thunderous room-shaking rumble as it slowly moved across a massive soundstage produced by the 3D Array XL. Much like my experience with The Expendables, adding the SuperSat 3s to the mix created a bubble of sound that appeared much larger than the room. And the tiniest of details within the presentation were etched to perfection. True sonic bliss!

This kind of audio experience is what I expect from GoldenEar gear, and it's exactly what was delivered (simply fantastic).

Rock of Ages (Blu-ray, DTS-HD MA 5.1)
Much like the other two films, the 3D Array XL created a massive canvas of sparkling sound loaded with a precision and exactness that was incredibly impressive. Imaging was spectacular and tonality of the presentation was balanced. Basically, whip-up your favorite audio superlative and insert it here (the 3D Array XL and SuperSub X sounded that incredible). All of the mid and high frequencies in this film seemed to float in the air with an expansive presence. The addition of the SuperSat 3s pushed that expansiveness into insane territory, with a spaciousness that seemed nearly impossible, keeping my head on a swivel.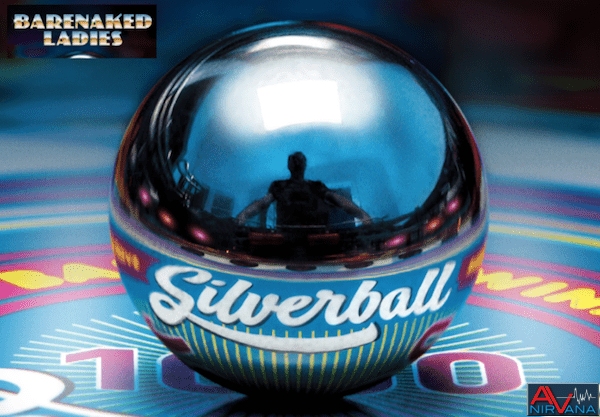 (Universal Music LLC)



Music
As if the system's movie prowess wasn't thrilling enough, it turns out that the 3D Array XL and SuperSub X can capture the starring role as a hybrid two-channel combo, too. I kicked off my music listening with the Barenaked Ladies recent Silverball album. The GoldenEar duo dished out a buttery smooth performance capped with smooth highs and taut bass. It was a perfect blend, rounded by a wonderfully balanced midrange.

Next, I reached for Yello's Touch, an album full of dynamic sounds and the potential for incredible imaging on a dialed-in system. Once again, the 3D Array XL and SuperSub X didn't disappoint; the album's songs were recreated with an ultra-clean presentation that had electronic pulses and thumping beats dancing in the air. My favorite track, "Bostich (Reflected)," blew the soundstage wide open with snappy sounds that dazzled my ears with a crisp and uncolored nature. To be quite honest, this track had me convinced: I would happily use the 3D Array XL as part of a reference stereo system.

To finish things off, I reached for some alternative rock-n-roll. The Upwelling (An American Stranger) fit the bill perfectly, and the results were KILLER. Track one, "American Girls," threw a soundstage wider than the room. And while that may read as an exaggeration, I can confidently say that the track literally punched through the walls, appearing to be larger than life. Track two ("Garden") repeated the feat, all the while keeping vocals focused and centered. The 3D Array XL and SuperSub X were right at home, singing with delight as if The Upwelling were its analog drug. Precision and balance capped this beautiful presentation. It's always fun to hear favorite music played with captivating style, and the 3D Array and SuperSub had me hitting repeat on numerous occasions!




Conclusion


Over the years, I've had an opportunity to review quite a bit of high-tech gear, most of which delivered exceptional performance. In some regards, the excitement of testing and confirming a product's real-world prowess is tempered by the fact that my own personal expectations are rather high. Seems reasonable, right? In fact, I can only recall a handful of reviews that turned into shocking assumption-crushing experiences. It just so happens that GoldenEar Technology's 3D Array XL (and its system partners) is being added to that category. There's something ridiculously magical about the 3D Array XL's expansive sound that captivated my ears. Its sonic abilities and high-end qualities struck all the right chords, blowing my mind at every turn. And the true beauty of the system is that a buyer can drop the SuperSats and still experience a dynamic presentation that wraps around the listening space.

If you're looking for a soundbar capable of crushing the typical soundbar experience, run (don't walk) to your nearest retailer and give this system a listen. It can legitimately be used in family room and home theater settings alike, without performance sacrifice. In fact, home theater enthusiasts can easily add this system to a want list that includes true bookshelf or tower speaker options. And the fact that it can deliver stereo music with class and precision? Wow!

So, to answer my opening question: yes. The 3D Array XL is one of my personal product favorites. Highly Recommended.








SuperCinema 3D Array XL Specifications



Dimensions: 62-1/8˝ W x 4-3/4˝ H x 2-7/8˝ D
Weight: 21 lbs / 25 lbs (shipping)
Frequency Response:80 Hz - 35 kHz
Efficiency: 91 dB
Nominal Impedance: Compatible with 8 ohms
Driver Complement: Eight - 4-1/2˝ High-Definition Cast-Basket MVPP™ Mid/Bass Drivers; Three - HVFR™ High-Velocity Folded Ribbon Tweeters
Recommended Amplification 20 - 300 watt/channel
SuperSub X Specifications
Dimensions (height includes feet): 14˝ W x 12-3/4˝ H x 13-1/4˝ D
Weight: 40 lbs (product) / 51 lbs (shipping)
Frequency Response: 12 Hz - 250 Hz
Driver Complement: Two 8˝ long-throw high-output bass drivers; Two 10-1/2˝ x 9-1/2˝ quadratic planar infrasonic radiators
Amplifier:
1400 Watt ForceField digital amplifier
LFE Line-Level Input: Unfiltered (no low pass), direct-coupled
Right/Left Line-Level Input: Variable Low-Pass from 40 Hz – 150 Hz
Variable Low-Pass: from 40 Hz – 150 Hz
Fuse Size: 6-amp 250-volt slow blow fuse
Power Requirements/Consumption: Low Voltage Version – 120 V at 50 or 60 Hz / 1400 Watts
SuperSat 3 Specifications
Dimensions: 12˝ H x 4-3/4˝ W (H) x 2-3/4˝ D
Weight: 5 lbs / 6 lbs (shipping)
Frequency Response: 80 Hz - 35 kHz
Efficiency: 92 dB
Nominal Impedance: Compatible with 8 ohms
Driver Complement: Two - 4-1/2˝ High-Definition Cast-Basket MVPP™ Mid/Bass Drivers; One - HVFR™ High-Velocity Folded Ribbon Tweeters
Recommended Amplification 20 - 200 watt/channel
Last edited: