Moderator / Reviewer
Staff member
Thread Starter
Joined

Apr 4, 2017
Messages

3,272
Location
My AV System
Preamp, Processor or Receiver

Yamaha TRS-7850 Atmos Receiver
Other Amp

Peavy IPR 3000 for subs
Universal / Blu-ray / CD Player

Sony ubx800 4K UHD Player
Front Speakers

Cheap Thrills Mains
Center Channel Speaker

Cheap Thrills Center
Surround Speakers

Volt 10 Surrounds
Surround Back Speakers

Volt 10 Reach Surrounds
Rear Height Speakers

Volt 6 Overheads
Subwoofers

2x Marty subs (full size with SI 18's)
Video Display Device

JVC RS-46 Projector
Screen

Draper Cineperm M1300 119 inch Static Screen
​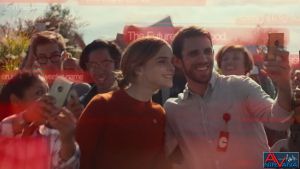 Movie
The subject of privacy is one that has plagued mankind for the better half of the last 50 or so years. The late 90s was filled with dozens of paranoia induced films that dealt with government over reach and using spy camera systems everywhere to bring about a totalitarian regime. By the turn of the century we were supposed to be in slave camps, completely dominated by the seeing eye in the sky, or else driving around on hoverboards and
The Jetsons
cars. And even though we haven't exactly achieved that level of space age technology doesn't mean we're not getting closer and closer with each technological leap. The last decade has recreated that 90s craze of making films about the over reach of digital technology, especially with the invention of cameras and portable devices that can be hidden anywhere. People can record video and conversations with their cell phones, and higher tech devices are no longer the thing of James Bond spy movies.
I feel like that old man who complains about the next generation all the while lauding those who came before him as faultless when it comes to technology. I grew up RIGHT On the cups of the technological internet wave as a child, so I was always getting on AOL (yes, painful old AOL), using Juno email accounts and learning about downloading pictures online. Nowadays the internet and technology are no longer associated with horrific dial tones as AOL connects, fearing to insert a half megabyte attachment for fear of crashing internet servers, and sitting in front of a windows 3.1 computer using command prompt to access programs. Now it's integrated into handheld devices, smart watches, our phones (which are now almost bigger than 1990's phones at this point, as they went from becoming super tiny to getting super large as people began using them as portable computers), and being "connected to people is a way of life. Now being connected is put in quotes for a reason. We as a people have more ACCESS to information and conversations, but this is usually as we sit behind a keyboard and converse from miles away (even if you only live a few miles from the person you're chatting with). Privacy has also taken a nose dive with governmental restrictions like The Patriot Act, as well as more and more surveillance equipment becoming mainstream and installed every day. There's almost a day that doesn't go by when I can't look up in the sky and see some private citizen's drone buzzing around in the sky, and who knows what else at a higher altitude. Naturally, humans still are worrying about where that balance of "world shrinking technology" and privacy comes into play. A never ending battle that leaves some people feeling a bit uneasy with how much of our private information is now public, whether that be the stupidity of social media sites like Instagram, Facebook and the like, down to NSA data dumps that are housed in some mysterious black box somewhere.
The Circle
seems to start off innocently enough. Mae (Emma Watson) is a poor girl temping at the local water company in a call center when a friend of hers gets her a job interview at THE biggest tech firm in the world, known as The Circle. There she starts out as an email and chat CSR for some unknown product (there's never any indication of what service she actually provides, or what she's supporting), but soon begins to become immersed in the "google" like culture of the company. It's not until the scene where two well meaning employees start harassing Mae for not doing enough "voluntary" corporate get togethers that the plot goes off into the ludicrous direction. Soon Mae is rubbing elbows with the CEO of the company, Eamon Bailey (Tom Hanks) and his desire to bring the world closer together with his new cameras (which Bailey touts as being able to help the war on terror as no one can hide anymore from these little things).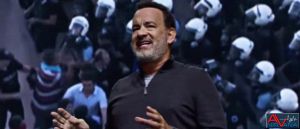 As the plot thickens and as Mae rises up the corporate ladder and into the hierarchy it becomes clear that she has been "absorbed" into this mentality that privacy is no longer needed. She undergoes a social experiment where she has a modified mini camera on her at all times, and all of her personal and private life is COMPLETELY open to the public, in a sort of "self knowing
Truman Show
" type environment. However, not all is well on the home front. The silent partner of the company, Ty (John Boyega), doesn't exactly feel that way. He aligns himself with Mae and shares his own fear that everything and anything that can be done with this technology WILL be done. Soon humanity will no longer have the right to privacy, the right to solitude, or the right to not be at the beck and call of the public at any time. This is amplified to hilarious proportions when we see a U.S. Senator agree to have the technology applied to her position (even though no government official would ever allow that type of transparency, as there are so many documents that would be exposed that she would have been removed immediately from power), or Mae and Bailey cheering on a project that DEMANDS that all users of their social media platform be REQUIRED by law to have it since they can now vote and do their taxes through the program. Soon the plot deviates very quickly into a
1984
like seriousness that is so out of touch with the "normal" theme of the opening half of that movie that it almost devolves into parody.
It's always a bit sad to see a recently dead actor on screen, but this is double the pain with TWO recently deceased actors on screen. Mae's mother and father is played by Glenne Headley (
Dirty Rotten Scoundrels)
and Bill Paxton, both of which have just recently departed from us. Sadly that may be all that history remembers of
The Circle
as the movie itself is a painful experience that leaves the viewer WISHING they had just skipped the movie. The first half of the movie seems to have no real plot or motivation, just wandering around like a fly on the wall as Mae gets integrated into her new business, and suddenly the plot goes completely dystopian in the blink of an eye, with Mae spouting off lines like "every human's experience is a human RIGHT" and wondering (quite seriously) why we can't FORCE everyone to adopt their new program as a way of life because "it would be democracy at it's finest!". Soon we're into
A Handmaid's Tale
level of craziness with no apparent way out. Even the ending comes off a rather unsatisfactory and hilariously cliched to the point of making you wonder just WHY the actor's chose this film.
I'm going to say something that will be slightly controversial. Emma Watson just isn't that good of an actress. I know people fawn over her left and right, and she's a big deal as U.N. Women's rights ambassador, but she's NOT that good of an actress. After
Harry Potter
she could do no wrong, but it became more and more clear as time went on that that she isn't that good. Each movie became a "well, she's not been given a good script yet" excuse, but as each film is come and gone it becomes crystal clear that Emma Watson is just playing Emma Watson in every movie she's in. Including
Harry Potter
. Tom Hanks has ties with David Eggers (who did
A Hologram for the King
) , but he's not given a whole lot of screen time. This is mainly an Emma Watson show, so Boyega, Hanks, Patton Oswalt and several other decent name actors get a few minutes on screen, and are HEAVILY underutilized as a result.
Rating:
Rated PG-13 for a sexual situation, brief strong language and some thematic elements including drug use
Video: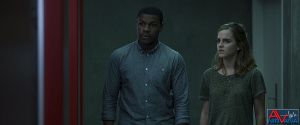 The Circle
was reportedly filmed at 5k and 6k digital cameras and given a full fledged 4K mastering process (which makes it all the more strange not to have a 4K UHD disc given to the film), and the resulting Blu-ray image is QUITE impressive for a thriller. With digital technology being the focus of the film, it makes sense to a digitally sharp looking picture, with the kind of "pop off the screen" colors and detail that really makes you drool. There is a vast array of different gradings going on, from the soft and earthy look of Mae's home, to the neon and black encrusted digital world of the Circle's underground server room. The office itself has that sort of white and overblown "Ipod" look to it, with an almost sterile feeling to the corporate world. Blacks are deep and inky, with only a few moments where banding in the darkest shots create a digital anomaly or two. Clarity and sharpness are top notch for a thriller, and the overall disc is a treat to look at.
.
Audio: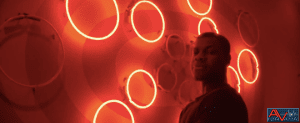 The 5.1 DTS-HD MA track on board the Blu-ray is about what you'd expect from a dramatic thriller. Vocals are crisp and cleanly replicated at all times, while the surrounds get a mild workout with ambient noises. The sounds of the crowd cheering Mae and Bailey on stage fill out the back end of the spectrum nicely, and the imaging in the front sound stage is superb. LFE is used mainly as a background enhancer, with the crowd taking up a lot of it as well as the electronic score. There's a few major bass drops in the film (the one in the server room being the main one near the end), but overall it's a subdued track that spends most of the time dealing with dialoque and quirky little score. It's technically admirable, and does everything that is required of it, but doesn't travel into the realm of immersive action movie.
Extras: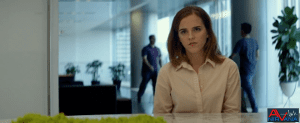 • No More Secrets: Completing The Circle — A Four-Part Series
• The Future Won't Wait: Design and Technology
• A True Original: Remembering Bill Paxton
Final Score:

​
The Circle
is a giant mess of missed opportunities, hamfisted dialog, poor acting, under utilization of GOOD actors, and an overall meandering experience. The ideas of privacy and invasive technology holds some very good potential for serious storytelling, but the end result is a giant mess that holds very little redeeming value thematically and story wise. I was super happy to see the late Bill Paxton and Glenne Headley in what would be their final film (most likely, as you never know what film is on the cutting room floor until years later), even though their roles are extremely minimal. The technical specifications of the Blu-ray are very impressive, but honesty, this is one better left for when you want something to put your to sleep at night.
Technical Specifications:

Starring: Emma Watson, John Boyega, Tom Hanks
Directed by: James Ponsoldt
Written by: James Ponsoldt (Screenplay), David Eggers (Screenplay and Novel)
Aspect Ratio: 2.40.1 AVC
Audio: English: DTS-HD MA 5.1
Studio: Lionsgate
Rated: PG-13
Runtime: 110 Minutes
Blu-ray Release Date: August 1st, 2017